The Complete Video Tutorial That Will Teach You How To SAFELY Tune Your Own Piano!

At last, a professional piano tuner reveals the secrets of piano tuning.

Want to tune your own piano?

Tired of searching how to tune a piano on the web for weeks to find only partial, fragmented and often misleading information?

Have you noticed the poor sound quality videos on piano tuning found on the NET that these "piano sound experts" deliver and yet, don't even know how to produce a quality and good sounding video?

Fed up with fake formations (eBooks)?

You're passionate about piano and it really bothers you to hear an out of tuned piano? If you had the financial means, you'd call your piano tuner every three months?

Want to save loads of money?

Want to start a new business and be your own boss?

Just imagine the privilege of being able to touch-up pianos that you didn't chose for your public representations!
GOOD NEWS!
Learning how to tune a piano yourself is possible!
Especially when you have a professional that follows you step by step.
This is exactly what PianoTuningHowTo offers you!
A complete formation on how to tune your own piano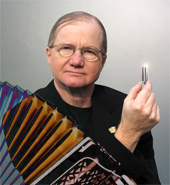 From: Mario Bruneau's Studio
Hi,
I've been tuning pianos for more than 35 years.
I know how frustrating it could be to spend thousands of dollars on piano tuning formations and/or to find so called "specialists" that garanty miracle results but fail to deliver.
Offers on the Internet abound but the fact remains:  the glaring lack of seriousness and competence often encountered. Especially those that offer you to learn piano tuning with an eBook as sole support!
To hear and understand the different acoustic phenomena involved in piano tuning, it is imperative that the sound and recording of the tutorial be nothing less than perfect.
I've seen too many incompetent tuners in my career and with this tutorial, I want to contribute to unmask this incompetency.
The base on which piano tuning rely is the mastery of gestures associated with the practice. These gestures and movements are virtually impossible to demonstrate only in words. Even illustrations are sometimes insufficient.
This is the reason why many professionals agree that:
"The piano tuner profession can not be learned other than with a specialist who follows you step by step."
This is also my opinion and it is with this state of mind that I've created
THE PIANO TUNING VIDEO TUTORIAL
Look at this short excerpt from the tuning lever manipulation chapter
Here Is The Piano Tuning Video Tutorial 01
Learn To Tune Your Own Piano From The Comfort Of Your House!

You will learn how to tune your own piano risk free.

You will learn how to set the tuning pin for a stable tuning.

Your tuning will be more stable thanks to a proper tuning lever manipulation.

You'll understand the forces involved to raise a piano up to tuning standard with only two tunings.

You'll know enough to teach your current piano tuner what he still fails to know.

You will have a strong enough base to foresee the possibility of a career.




With the help of MultiMedia, everything will finally be clearer to you!

You'll know if your present tuner is competent or not.

Finally, your knowledge will put you in an advantageous position to better express your expectations to your tuner.
"Hi, I've taken the course in my home and I've learn more in 3 hours than since 1 year and a half learning by myself! "

Mario is really passionate and answer all questions. A must for anyone who wants a solid foundation. Again, thank you Mario.
– Sébastien
Ste-Anne-Des-Plaines, Québec.

To give you an idea of the material covered in this piano tuning tutorial, here is the table of contents taken from the 150-pages eBook that complements this video training:
You'll find out that nothing is left unanswered. Everything is covered to give you a solid base.
This tutorial is design to bring your from point A to point B without omitting anything.
As shown in this video on strings-pins position
I don't believe at the approach of keeping silent the theoretical part in making you believe that piano tuning is easy and just technical. This attitude doesn't service anyone. Neither you and certainly not the "expert" who delivers it.
There is an interesting theoretical knowledge that you must assimilate to eliminate any insecurity facing the piano tuner trade.
Rest assured, I am good at transmitting the knowledge. I am very curious by nature and science always fascinated me. You will see, I shall convey this passion to you and together, we will have fun!
So don't be surprised if I teach you how to silently close a door as an example!
"Thank you for your site, really welcome to demystify piano tuning and make it accessible!"
– Bruno Mortgat, France

I'm perfectly aware of your eagerness to learn quickly but because I respect you, I will not lie to you unlike some who teach with methods not supported by theory.
That's why this training will take you by the hand from beginning to end of your learning and will deliver a solid theoretical foundation from the start that will support the final practice.
This formation includes:
5 videos sharing the 11 chapters
The complete 150 pages eBook transcript easy to print and carry with you anywhere even on your mobile device.
The complete MP3 audio transcript file you can listen to anywhere or while driving your car for example.
Bonus ! If you act NOW, you will get this book for FREE "PIANO TUNING" a simple and accurate method for amateurs from J. Cree Fisher that will help you further.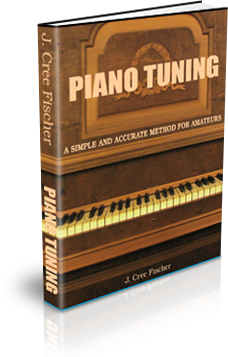 By reading this book, you will enhance further your piano tuning knowledge. It is well written and I have improved the graphics with image processing software and added some of my own illustrations. I have completely re-format this book for better legibility. This is 83 pages of solid, well documented information. This book is available for purchase on the Internet with various prices and up to $77! It's all yours FOR FREE if you order the piano tuning video tutorial NOW.
Here is a short excerpt from page 09:
Probably the most important essential in piano building is the production of a frame of such strength and stability that the enormous tension of the strings is completely resisted in all parts of the scale. In many of the cheaper pianos of this day, the lack of this essential manifests itself in an annoying degree to the piano tuner. In tuning, the workman "brings up" his temperament in the middle of the instrument; in most cases the temperament stands all right. He next tunes the treble, then the bass; after doing his work perfectly he will often find that the treble fell somewhat while he was bringing up the bass; or, in a few cases, he may find that the treble sharpened, thus showing that there was yielding of the frame. Of course, this defect might be overcome by using an extremely heavy metal plate and wooden frame; but the commercial side of the question, in this day, calls for lightness in the instrument as a check to the expense of production, and, consequently, pianos that are "made to sell" are often much too light to fulfill this requirement.

In the upright piano, the back frame of wood is first made; at the top of this is the pin-block, sometimes called the wrest-plank. This is composed of several layers of wood firmly glued together with the grain running in different directions to prevent splitting and warping. Into this plank the tuning pins are driven. The soundboard is fitted firmly into this frame of wood below the pin-block.

Next, the strong metal plate is secured to the frame by large bolts and screws. Openings are left in the plate for the bridges, which project from the soundboard beyond the metal plate; also for the tuning pins, action bracket bolts, etc.
"In every music school, we should introduce piano students to this essential practice."
– Nathalie Guillermic, France

"I just found this really superb site with Gilles Plourde, a very friendly tuner and repairer of pianos from Rimouski Quebec."
– Thierry Bonnet, France

"Good idea to make this precious knowledge accessible."

– Berchmans, Canada

"I am discovering this site with enthusiasm! Thank you.
– Groupe BLB, Québec

There aren't that many resource to learn how to tune a piano on the web but I've seen courses which amount in the $1,500 and more! Of course these are comprehensive trainings with chapters covering not only piano tuning but also action regulating, reconditioning and complete restoration, but they are not within reach for many budget.
There are also very inexpensive courses available in eBook but given the nature of the subject, the eBook is ineffective as noted above.
To allow a greater number of apprentices to embark, I decided to offer this training at the lowest possible price given the energy and the work involved to create a comprehensive and easy to follow video tutorial.
Because I have invested thousands of dollars for its creation, I could very well sell it to you for $997 and you would be satisfied given the money it will save you. Even at $497 you'd still have a bargain. But you wont even pay $397. No, I decided to set the price as low as $297 The price will increases following updates but if you act now, you'll get the updates FREE for life!
Act now and stop breaking strings!

Find out once and for all if piano tuning is for you!

The sooner you start learning piano tuning, the sooner you can earn an income!

No need to buy expensive books or drive to take your course, start now from the comfort of your home.
Yes!

Mario, give-me INSTANT ACCESS to THE PIANO TUNING VIDEO TUTORIAL.

I understand that I will download the complete formation of the PIANO TUNING TUTORIAL for a small and unique investment of $297 LAUNCH SPECIAL $197

ONLY $197

Order NOW and for a limited time, get this BONUS book for FREE:

PIANO TUNING

Order with confidence on 100% secure server.

WARNING! Following your payment, wait a few seconds … You will AUTOMATICALLY be redirected to the Tutorial's download page.
Limited budget? No problem. Buy the eBook or the MP3 audio only and get a 90% refund should you decide to get the complete formation…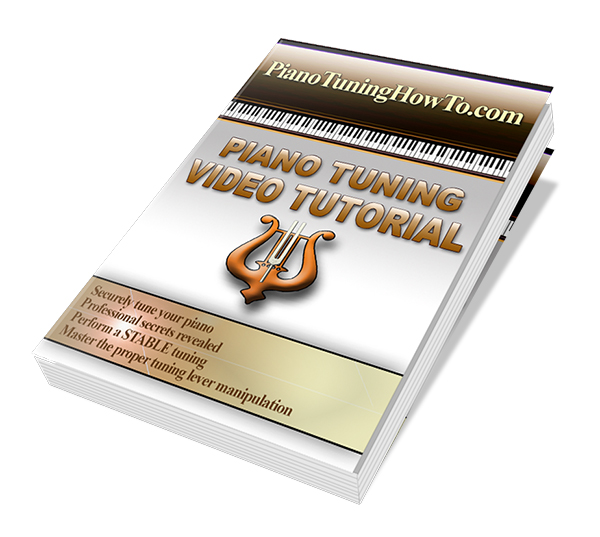 Only the eBook :
$97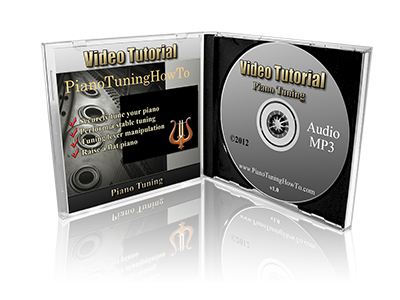 Only the Audio MP3 :
$77
IMMEDIATE access 7/7, 24/24, anywhere in the world!

"It's great what you want to do! (I live in Croatia!)"

– Viktor Bregovic, Croatia

Further more, as a PianoTuningHowTo customer, of you will have FREE access to privileged support. I answer to all the questions. Use the comment form at bottom of this page to ask me anything, I usually respond within 48h max.
Just like having a distant private teacher at your disposal!
Order now and contribute to harmony in the Universe by tuning a piano today.
yours truly,
PS You've been struggling long enough with bogus products. Start your piano tuning learning now and maybe you can say "bye bye" to your boss in a near future.
PPS Remember that by purchasing this full video tutorial today, you will get the BONUS book "PIANO TUNING" that will further more enrich your piano tuning knowledge.